IF/THEN® Collection Educator Hub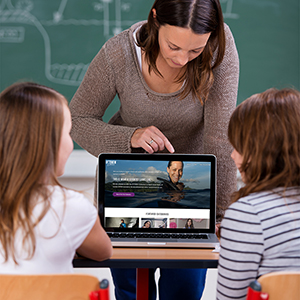 ---
CLICK BELOW TO ACCESS VIDEOS, POSTERS AND PROFILES

---
ALIGN TO LEARNING STANDARDS
Go beyond core STEM courses and incorporate Collection assets into something much more interdisciplinary!  Ideas below align with the three distinct and equally important dimensions of learning named in the Next Generation Science Standards (NGSS):

In addition, the Collection embodies the 21st Century Learning Innovation and Career Standards.
---
BRING THE COLLECTION INTO YOUR CURRICULUM
Suggestions below provided by IF/THEN® Coalition Member, Teach for America. Don't forget, you can keyword search lesson topics and filter assets by:

Ideas for integrating Collection assets into your curriculum :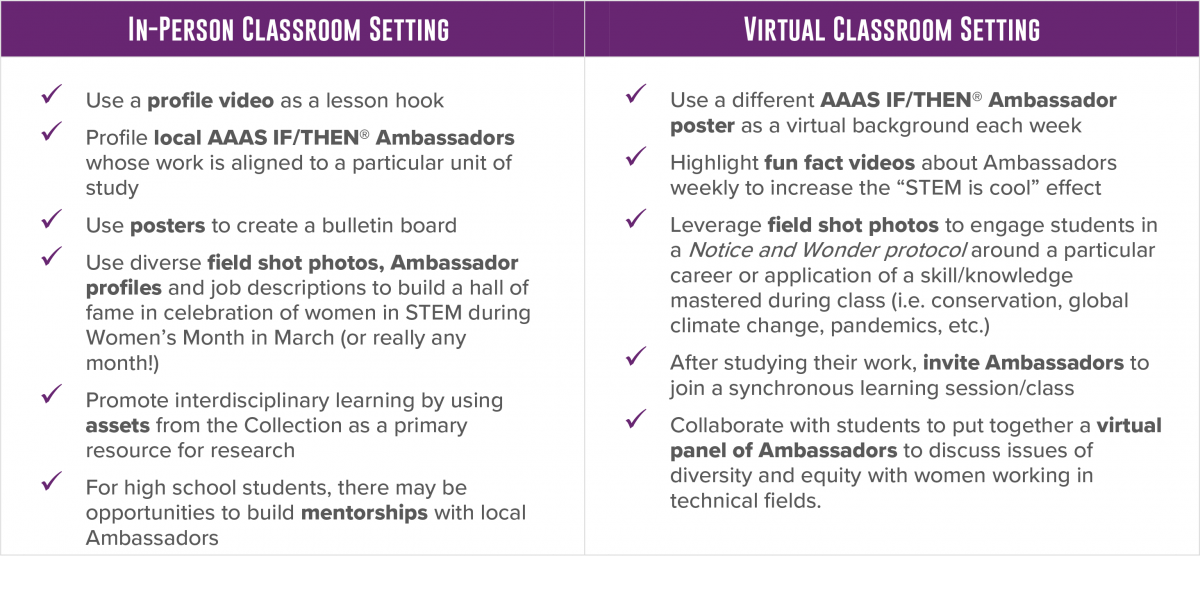 ---
GO DEEPER!
A one-stop-shop for educators to leverage IF/THEN® Collection content and partnerships.
| | |
| --- | --- |
|    |  REPLICATE A STEM PROJECT USING THE IF/THEN® COLLECTION AND RECEIVE 3X DONATION |
Last fall, Lyda Hill Philanthropies asked teachers to share their best ideas for engaging their students in STEM through the IF/THEN® Collection. A panel of experts has selected the 10 most innovative DonorsChoose IF/THEN® Collection Innovation Challenge projects. Now, YOU can participate too: Adapt and replicate one of these 10 winning ideas for your class, and receive 3X donations. Visit the DonorsChoose IF/THEN® Collection Project Playlists to learn more about each project and how they can help you bring STEM and the IF/THEN® Collection content into YOUR classroom!
| | |
| --- | --- |
|    |  CONNECT THE DOTS FROM CLASSROOMS TO CAREERS |
Access no-cost, standards-aligned classroom activities and a career portal to broaden awareness of STEM careers.  Powered by IF/THEN® Coalition Member, Discovery Education, the STEM Careers Coalition Careers Portal features AAAS IF/THEN® Ambassadors and helps to bridge the STEM workforce and inspiration gap
| | |
| --- | --- |
|    |  INVITE WOMEN STEM PROFESSIONALS INTO YOUR CLASSROOM |
| | |
| --- | --- |
|    |  TRY DIY ACTIVITIES FEATURED ON MISSION UNSTOPPABLE |
Watch educational CBS show hosted by Miranda Cosgrove and produced by IF/THEN®, Mission Unstoppable, airing nationally on Saturday mornings on CBS.  Find short features on women in STEM and DIY experiments on the Mission Unstoppable YouTube channel or on the IF/THEN Collection.
| | |
| --- | --- |
|    |  EXPLORE STEM CAREER BADGE ACTIVITIES |
Follow Girl Scouts at Home™  STEM Career Badge activities featuring AAAS IF/THEN® Ambassadors with careers in STEM that are making a difference for other people, animals and environment.
| | |
| --- | --- |
|    |  GO BEHIND-THE-SCENES WITH FEMALE STEM PROFESSIONALS |
Watch GoldieBlox's Fast Forward Girls series on YouTube. Each episode features a girl meeting two professional women working in STEM who show just how transformative a STEM career can be.  The show highlights an ice cream architect, a slime scientist, an instrument designer and more.
| | |
| --- | --- |
|    |  STAY CURIOUS WITH A VIRTUAL CAMP |
Navigate GoldieBlox's Curiosity Camp and encourage students to watch STEAM content featuring AAAS IF/THEN® Ambassadors.  From YouTube programmers and rocket engineers to lizard wranglers, see how they got into these careers and what they do every day. Download activity sheets and DIY projects that you can do at home, and discover puzzles, lesson plans and more.
| | |
| --- | --- |
|    |  GET FREE SCIENTIST-OF-THE-MONTH TOOLKITS |
Each educator kit made available by IF/THEN® Coalition Member, I Am A Scientist, has two parts: (1) Free online resources including an overview of the scientist's work, career path, and resources for kids who want to learn more. (2) Large, vibrant, physical posters that can be hung on the walls to connect students with scientists and their stories, available for download or purchase. Don't miss the spark kit featuring AAAS IF/THEN® Ambassador and bat conservationist, Kristin Lear.
| | |
| --- | --- |
|    |  DESIGN A BOARD GAME LIKE A COMPUTER SCIENTIST |
Get in the Game is an "unplugged" activity–exploring concept usually associated with programming and computer science without the use of a computer.  The Tech Interactive Museum in San Jose presents six activity videos featuring AAAS IF/THEN® Ambassador Dr. Siobahn Day Grady where students design their own board games and learn how Dr. Grady applies computational thinking skills as a computer scientist researching autonomous vehicles.  Click to download an Educator Guide and Student Handouts
| | |
| --- | --- |
|    |  PRINT WORKBOOKS TO EXPLORE 5 STEM CAREERS |
From soil science to coding for wildlife, Eugene Science Center's Next Gen STEM project offers quick lessons, printable activities, and coloring pages profiling the careers of 5 AAAS IF/THEN® Ambassadors.  Click to download activities for Soil Scientist, Dr Yamina Presser  |  Science Communicator for a Space Agency, Dana Bolles |  Research Software Engineer, Gracie Ermi  |  Biomedical Engineer, Inventor & Author, Dr. Arlyne Simon  |  Medical Physicist, Dr. Jessica Fagerstrom