Access Videos, Posters and Profiles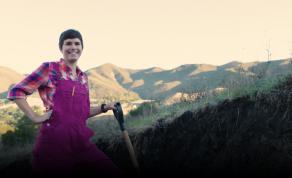 Weekly Spotlights
Use the 175+ AAAS IF THEN® Ambassador hero videos as a lesson hook or showcase one per week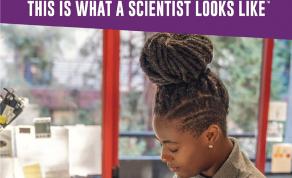 Virtual Backgrounds
Use different AAAS IF THEN® Ambassador posters as virtual backgrounds each week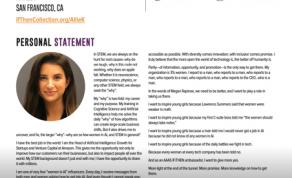 Real World Research
Promote interdisciplinary learning by using assets and AAAS IF THEN® Ambassador profiles as a research resource
For any educator who wants to use these powerful videos and images for non-commercial educational purposes
Resources appropriate for all genders and age groups
Can be used by informal and formal educators in both virtual and in-person learning environments
Go Deeper!
A one-stop-shop for educators to leverage IF/THEN® Collection content and partnerships.
Go beyond core STEM courses and incorporate Collection assets into something much more interdisciplinary! Ideas below align with the three distinct and equally-important dimensions of learning named in the Next Generation Science Standards (NGSS):
CROSS-CUTTING CONCEPTS
Ideas and principles that explore the intersection of all four domains of science, namely Physical Science, Life Science, Earth and Space Science and Engineering Design
SCIENCE & ENGINEERING PRACTICES
Practices that describe what scientists and engineers do to investigate the natural world and design and build systems. The Practices better explain and extend what is meant by "inquiry" in science, and the range of cognitive, social and physical practices that it requires.
DISCIPLINARY CORE IDEAS (DCIs)
The key ideas in science that have broad importance within or across multiple science or engineering disciplines
Bring the Collection into YOUR Curriculum
Suggestions below provided by IF/THEN® Coalition Member, Teach for America. Don't forget - You can keyword search lesson topics and filter assets by:
TYPE
Photos, videos, profiles, posters, activity sheets, etc
LOCATION
Geographic location of STEM experts to identify local Ambassador(s)
DISCIPLINE
From paleontology to sports to astrophysics to cosmetics and beyond
Ideas for integrating Collections assets into your curriculum:
IN-PERSON CLASSROOM SETTING
Use a profile video as a lesson hook
Profile local AAAS IF/THEN® Ambassadors whose work is aligned to a particular unit of study
Use posters to create a bulletin board
Use diverse field shot photos, Ambassador profiles and job descriptions to build a Hall of Fame in celebration of women in STEM during Women's Month in March (or really any month!)
Promote interdisciplinary learning by using assets from the Collection as a primary resource for research
For high school student, there may be opportunities to build mentorships with local Ambassadors
VIRTUAL CLASSROOM
Use a different AAAS IF/THEN® Ambassador poster as a virtual background each week
Highlight fun fact videos about Ambassadors weekly to increase the "STEM is cool" effect
Leverage field shot photos to engage students in a Notice and Wonder protocol around a particular careers or application of a skill/knowledge mastered during class (i.e. conservation, global climate change, pandemics, etc.)
After studying their work, invite Ambassadors to join a synchronous learning session/class
Collaborate with students to put together a virtual panel of Ambassadors to discuss issues of diversity and equity with women working in technical fields